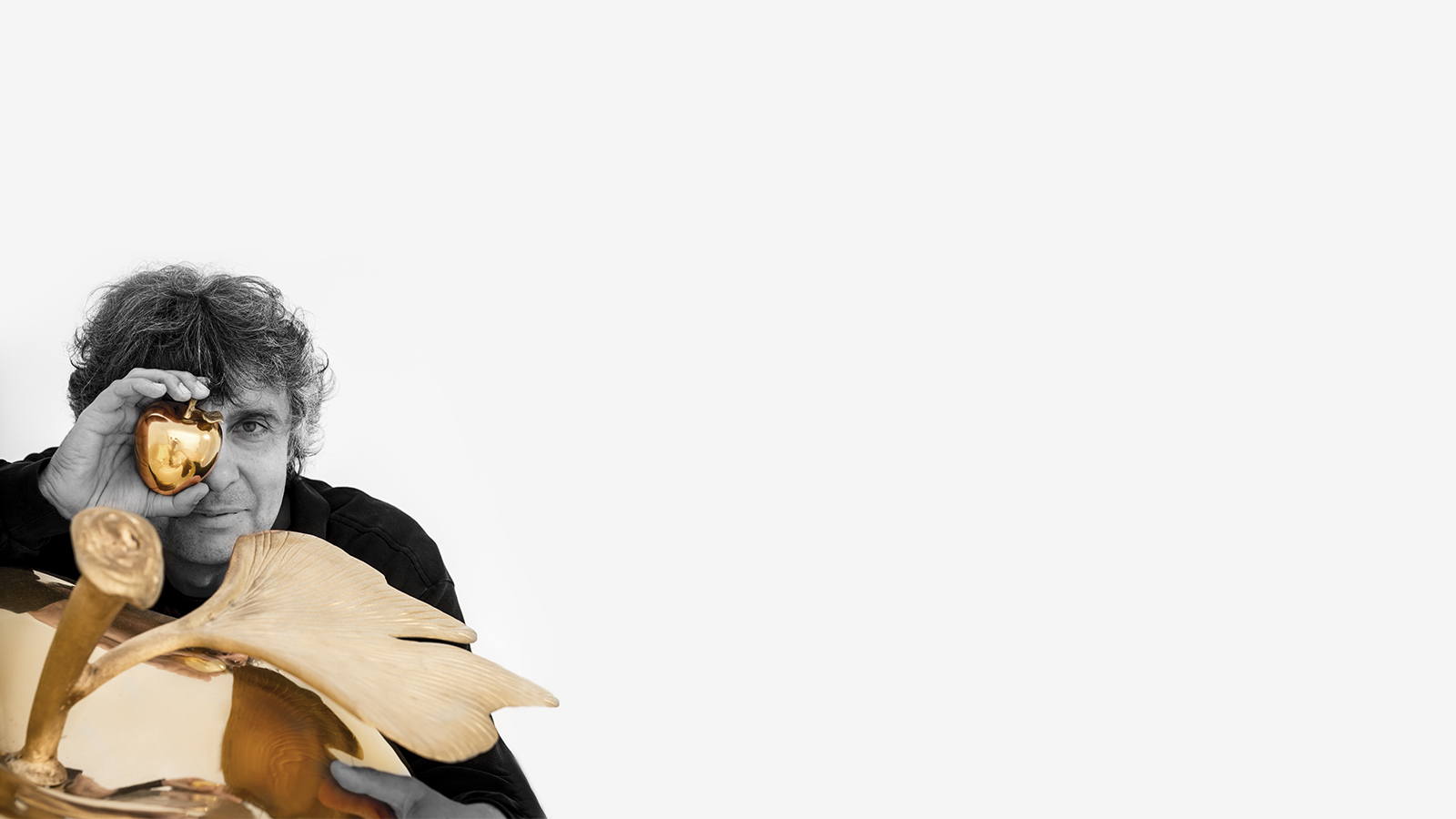 Yann Faisant was born in 1960 in Paris. He lives and works there.
In 1978 he began training as a horticulturist at the Ecole d'Horticulture d'Igny (The Igny Horticultural School, southwest of Paris), from which he graduated in 1980.
Yann discovered a passion for dendrology, the science of trees, and notably for Ginkgo biloba, the particular essence and properties of which have appeared intermittently throughout his work. Ginkgo biloba became the subject of the dissertation for his Master's, which he obtained in 1980.
He subsequently started training in the visual arts, notably video and digital art, from 1985 to 1990. Parallel to this, he trained as a bronze smith, moving in and out of artists' studios and foundries. Since 1992, Yann Faisant has experimented in different creative media (video, installations and sculpture) in order to stress the close links and tensions between humankind and Nature. Art, as far as he is concerned, no longer stands for representation alone, but for a presentation of the reconciliation
Necessary between people and the natural elements crucial to their existence.
Jean-Claude Mazel and Yann met in the 1980s, but only started to really collaborate in 1989, under the names Mazel and Jalix. They established their own foundry and initiated a real creative dialogue, where their respective works engage in the same artistic discourse and pursue the same aesthetic investigations through different media. In 2000 they brought to life the 'Jardin extraordinaire' (Extraordinary Garden), an original space for free formal and conceptual creation, a garden bringing together bronze sculptures with polychromatic patina staged in an idyllic setting with symbolic elements united in a positive aesthetic quest.
In 2009 Yann outlines his masterpiece or Opus Magnum project; he developed the idea of resistance, and presented a video, 'Silence Part I', about Ginkgo biloba, a visual and narrative prelude on the theme of survival.
In 2010 the exhibition 's'âme-user' was held in the Art Diffusion gallery in Paris.
The exhibition title is a phonetic play on words, the verb s'amuser meaning to amuse oneself, to have fun, the two separate phonemes signifying soul (âme) and 'use', or 'wear out' (user). The show explored the theme of alchemy with the aid of animals, or animae (souls). This is where the apple first appeared in Yann's work, as a mythic, narrative symbol of nature.
In 2011, throughout Phi = 1.6180339887…, Yann put the perfection of nature into practice, using the Fibonacci sequence and exhibiting seven golden apples in a perfect sequence.
Opus A, first part of Opus Magnum, is born.
Solo exhibitions
2014 Galerie Laurence Guerrieri, Paris, France
2014 Galerie G., Courchevel, France
2014 Installation Mairie de Paris, Paris, France
2013 Galerie Xinhua, Paris, France
2013 Installation quai de la Joliette, Marseille capitale européenne de la culture, Marseille, France
2013 Biennale de Venise, galerie Juris & Perl, Venise, Italie
2013 Art Fair Monaco
2012 Exposition Hotel de la Marine, Paris, France
2011 Galerie Art Diffusion, Paris, France
2010 Groupe Projinova, Dubai, EAU
2010 Galerie Art Diffusion, Paris, France
2009 Galerie Art Diffusion, Paris, France
Group exhibitions
2012 Galerie Peter Brown Fine Art, Londres, Royaume Uni
2012 Galerie Clorinde Martin Paris, France
2011 Galerie Cafmeyer Knokke le zout-Belgique
2011 Galerie Frederic Got Fine art-Saint Paul de Vence, France
2011 Galerie Rocha-Barbizon, France
2011 Galerie Les tournesols-Saint Etienne, France
2011 Galerie Castiglione-Paris, France
2011 Foire d'art de Shanghai Chine
2010 Galerie Artdif.com-Saumont la Poterie, France
2010 Galerie Castiglione-Paris, France
2010 Galerie Clorinde Martin-Paris, France
2010 Foire d'art de Shanghai-Chine
2009 Galerie Clorinde Martin-Paris, France
2009 Galerie  Paulette Bos-La Hague, Pays Bas
2008 Galerie Elysées-New York, Etats Unis
2008 Marigold Fine Art gallery -New Delhi, Inde
2007 Galerie du vieux Saint Paul-Saint Paul de
2007 Galerie Clorinde Martin-Paris, France
2007 Galerie D'art Elysées-Paris, France
2006 Galerie Clorinde Martin-Paris, France
2006 Foire d'art Shanghai
2006 Galerie Sainte Catherine-Honfleur, France
2006 Galerie de L'Alpage II-Courchevel, France
2005 Galerie Bel Air Fine Art-Genève, Suisse
2003 Foire d'art de Genève
2002 Galerie Villard Lalande Paris, France
2002 Galerie Félix Haloux-Paris, France
2000-2001 Galerie California, Paris, France
Muséographie
2007-2008 Musée du Luxembourg-Paris